Famous Couples in the Sports World. Here is a list of 10 most amazing sports couples. We wonder who else from the sports world will tie the knot this year. Here's a look at some of the most famous 'love' pairings we've seen in the sporting world over the years. Have a look!
Top 10 Most Famous Couples in the Sports World:
10. Morgan Beck and Bode Miller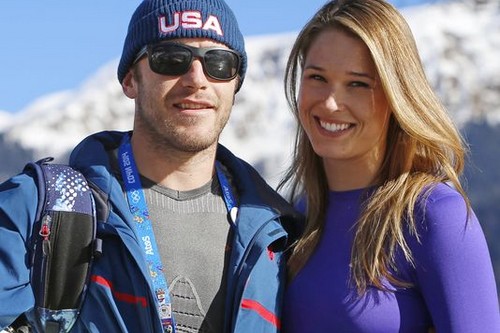 Olympian and U.S. skier Bode Miller and AVP volleyball player and model Morgan Beck tied the knot back in October 2012 in a San Diego. The are expecting their first child together.
Morgan Elizabeth Beck is a U.S model and beach volleyball player. Morgan Beck's career began at the school level with the San Clemente High School, where she played for all five school years and simultaneously also plays for the Saddleback Valley Volleyball Club. From 2005 to 2008, she played for the University of California, Berkeley.
Samuel Bode Miller is an American alpine skier. He is one of the few "all-rounders", and is the most successful alpine skier of his country. At the 2010 Winter Olympics Miller became Olympic champion. He married with Morgan on October 7, 2012.
9. Lindsey Vonn and Tiger Woods
Duo first went public with their relationship when they each made it Facebook official.
"Tiger and I both went through rehab with our injuries at a similar time, so we were both in the gym together and pushing each other and motivating each other, both frustrated,".
"I think we both helped each other a lot through that time, and I drew a lot of inspiration from him and I think he does the same with me.
"We continue to push each other and it's a really positive relationship in that way." Vonn said.
Lindsey Vonn is a U.S skier who has won one Olympic gold medal (2 medals in total), 2 World Championships (5 Medals in total), 4 General of the World Cup (and 13 World Cups in different disciplines) and has 64 wins in the FIS Alpine Ski World Cup (with a total of 109 podiums).
Eldrick Tont "Tiger" Woods is an American professional golfer and one of the most successful golfers in the history of sport. With an estimated annual earnings of about 78 million US $, he is the highest paid athlete in the world. According to Forbes Magazine, he is the first athlete ever more than 1 billion US dollars. On March 18, 2013, he announced that he and Lindsey Vonn were dating.
8. Sasha Vujacic and Maria Sharapova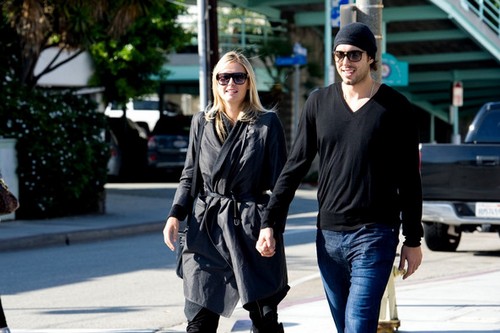 Aleksandar "Sasa" Vujacic is a Slovenian professional basketball player. From 2004 to 2011 he was active in the US professional league NBA. Vujacic was engaged with the tennis player Maria Sharapova. In 2012, the couple separated.
Maria Sharapova is a Russian tennis player and a photo model. Sharapova was soon compared with Anna Kournikova after her first appearances in the press. According to Sport Bild earned Sharapova in 2007 alone by advertising contracts 20 million US dollars, making it the highest-paid female athlete worldwide.
7. Sania Mirza and Shoaib Malik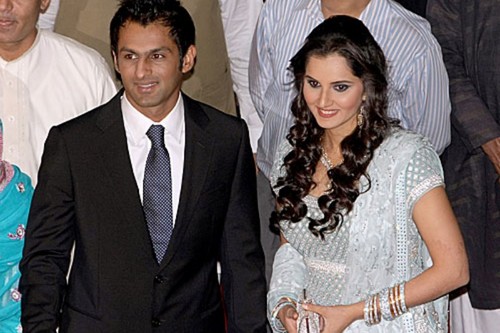 Sania Mirza is an Indian professional tennis player. He became the first player from India to win a title on the WTA and reach the fourth round at a tournament in Grand Slam. She began playing tennis at the age of 6 years. In 2001 and 2002 she devoted herself entirely to play futures events in the ITF , mainly in her native country, managing to win three titles in singles and one in doubles.
Shoaib Malik is a Pakistani cricket player and former captain. He was ranked second, behind teammate Shahid Afridi, in the ICC ODI all-rounder rankings in June 2008. He married Indian tennis player Sania Mirza on 12 April 2010 in an Islamic wedding ceremony at the Taj Krishna Hotel in Hyderabad. Their Walima ceremony was held in Lahore.
6. Ana Ivanovic and Vanja Udovicic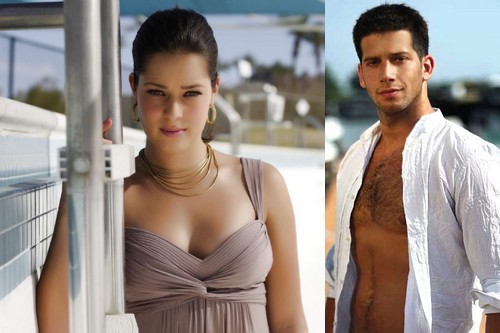 Ana Ivanović is a Serbian tennis player. In 2008, she stood for at the top of the world rankings twelve weeks. She was together in 2006 with her ​​colleague Daniela Hantuchova in a commercial for Sony Ericsson . During the 2008 Australian Open , she wrote a daily column for the Melbourne newspaper,The Age.
Vanja Udovičić is a retired Serbian waterpolo player, currently performing the role of a cabinet minister in the government under Aleksandar Vučić Serbian Prime Minister and Deputy Prime Minister Ivica Dacic. On September 2, 2013, Udovičić accepted the offer to become the minister of Youth and Sports in the Government of Serbia. Serbian magazine called "Press, reported Vanja and Ana as the couple.
5. Caroline Wozniacki and Rory McIlroy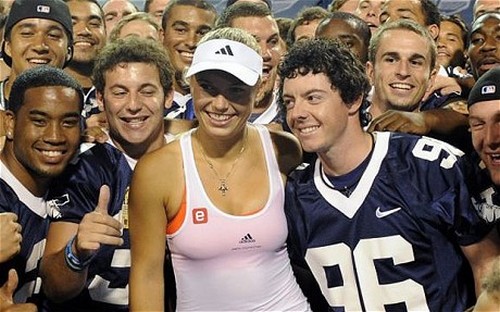 Caroline Wozniacki is a Danish tennis player. Wozniacki is the daughter of Anna and Piotr Wozniacki , both from Poland. The mother played in the Polish national volleyball team. The father, still her coach and consultant, is a former professional football player. On November 2, 2014 ,Wozniacki took part in the New York City Marathon. In her marathon debut she covered the distance in 3 hours 26 minutes and 33 seconds.
Rory McIlroy is a Northern Irish professional golfer. He is the current number one in the world rankings and four-time major champion. At the age of 15 years McIlroy was a member of the victorious European team at the Junior Ryder Cup of 2004. McIlroy was nearly 3 years with the Danish tennis player and former world number one Caroline Wozniacki. On 21 May 2014 it was announced that the golfer dissolved the engagement and the couple separated.
4. Bret Hedican and Kristi Yamaguchi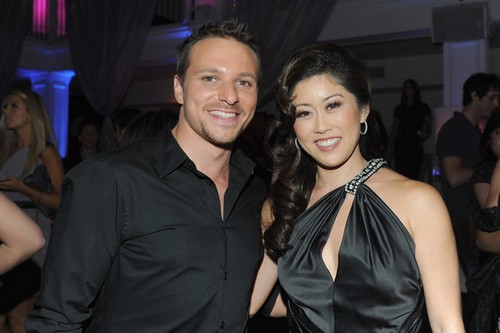 Bret Michael Hedican is a retired American ice hockey player, who played for for the St. Louis Blues , Vancouver Canucks , Florida Panthers , Carolina Hurricanes and Anaheim Ducks in the National Hockey League played from 1991 to 2009.
Kristine Tsuya "Kristi" Yamaguchi is a former American figure skater. She is the Olympic champion of 1992 and the world champion of 1991 and 1992. Yamaguchi is the daughter of the dentist Jim Yamaguchi and medical secretary Carole Doi. Her paternal grandparents and great-grandparents, her mother immigrated from Japan to the United States. In 2000 she married Bret and they have two daughters.
3. Nadia Comaneci and Bart Conner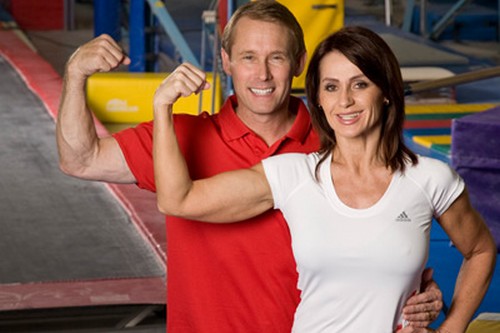 Nadia Elena Comăneci is a retired Romanian artistic gymnast and is considered one of the best gymnasts of all time. She won a total of five gold medals, three silver medals and one bronze medal at the Olympic Games in 1976 and 1980.
Bart Conner is a retired American gymnast . He was twice Olympic champion. His first success of significance was the AAU caption 1972. Immediately after his high school Accounts, he accompanied the US delegation as the youngest member of the Summer Olympic Games in 1976 in Montreal .He was then 18 years old and attended all eight races in Gymnastics. Conner married Nadia Comăneci on 27 April 1996, in Bucharest.
2. Laila Ali and Curtis Conway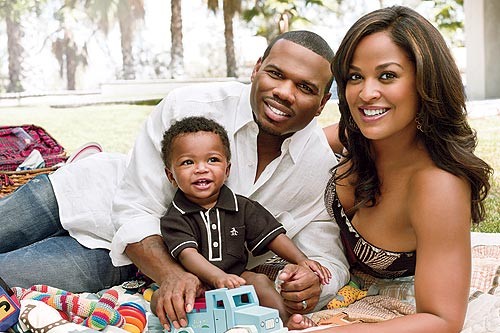 Laila Ali is an American boxer. In early 1999, she surprised the boxing world with the decision to follow in the footsteps of her father, the great boxer, Muhammad Ali to enter into professional boxing. On 8 October 1999. Ali won her pro debut against April Fowler by KO in the first round.
Curtis Lamont Conway is a former American footballer in the National Football League. Conway also played for the San Diego Chargers, New York Jets and San Francisco 49ers. On July 23, 2007, he married Laila Ali.
1. Steffi Graf and Andre Agassi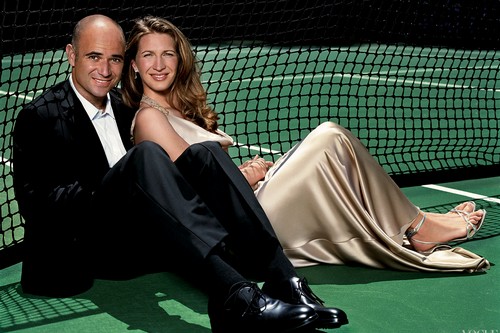 They married on October 22, 2001 at their Las Vegas home, Graf being advanced in her pregnancy. They have two children: son Jaden Gil and daughter Jaz. The Graf-Agassi family resides in Summerlin, a community in the Las Vegas Valley. The pair is still going strong with son and daughter now part of one happy bunch.
Stefanie Maria Graf is a German retired professional tennis player. In 1988 she became the first and only woman to win the Golden Slam. Graf won a total of 107 WTA tournaments, including 18 five Tier I WTA Tour Championships, as well as 11 doubles tournaments. She was the No. 1 tennis player at WTA ranking for 377 weeks.
Andre Kirk Agassi is a former American tennis player and Olympic gold medalist. In his 21 year career Andre Agassi won 60 individual tournaments, including eight Grand Slam tournaments. As one of seven players in the history of tennis, Agassi was able to win all four Grand Slam tournaments at least once. Agassi is one of the dominant players in the 90s and early 2000s, occasionally also as one of the best tennis players of all time. Since October 2001 he has been married with the former German tennis player Steffi Graf. The couple has two children, Jaden Gil (born 26 October 2001) and Jaz Elle (born 3 October 2003).