Past 2 days have been extremely sad for Barcelona fans all around the world as Dani Alves and Marc Bartra have confirmed their exit from the club. Dani Alves was the best right-back the club has ever had and was a part of Guardiola's dream team that won the first treble in the season 2008/09 season and 3rd champions league trophy for the Club. He has been a regular starter from the very beginning and reached a milestone of 100 appearances for the club in just 2 seasons. He has always been a true cule and an integral part of Barcelona throughout his stay at the club. He said, "I have been lucky enough to wear the shirt of the best club in the world".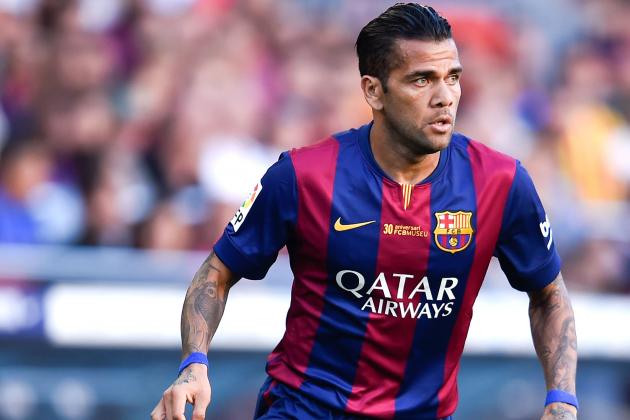 Dani Alves became the first signing of Pep Guardiola at Barcelona, and arrived after a successful 6-year spell at Sevilla and costed 32.5 million pounds which made him the most expensive defender and was also the third most expensive signing made by the club. He has second most European titles in the history, one less than Maldini. Fans have always loved him, and now he is leaving the club in tears after a successful 8 years spell. On Thursday 2nd of June 2016, Dani Alves wrote an emotional letter to fans sharing his beautiful memories and confirmed his exit as he wanted a new challenge in his life. In his letter, he promised to return to the club. He has given lots of memories to the club. Here is the list of his best moments at Barcelona.
1. Cold war with Cristiano Ronaldo:
Barcelona's right back and Real Madrid's Left winger/striker Cristiano Ronaldo developed bitter relations after encounters on the field. They had a cold war on and off the pitch several times. Once during a game, Alves nutmeg Ronaldo which intensified the cold war. Moreover, he humiliated Cristiano once more in 2015/16 with his footwork. The reason was that Alves hated the gestures of Cristiano.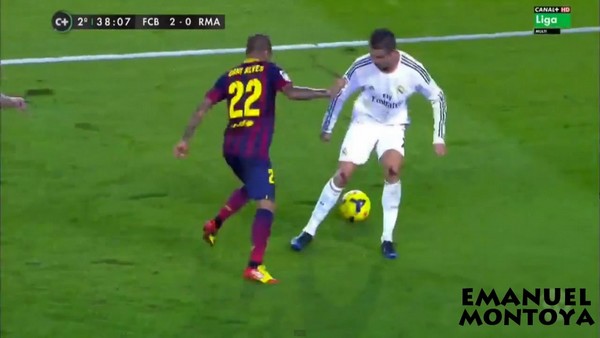 At the recent Ballon d'Or ceremony, where he featured in FIFA team of the year, Alves was snubbed by Ronaldo as he wanted to shake hands. Alves, later on, gave the statement he couldn't care less about it and insisted that he has no problem with Ronaldo and his previous statements were misinterpreted. Moreover, he ranked Neymar over Cristiano which made Cristiano unhappy with him. Cristiano stated that Alves has been talking about him to get into news which was replied by a tweet where Alves sarcastically showed his trophy collection expressing the message that he doesn't need anything else to get on the news.
2. Screamer against Real:
Dani Alves, despite being a defender, was a great shooter and was also known for his curves. He scored a screamer against Real Madrid in an intense Copa Del Rey fixture from a rebound from a free-kick and hit a curving strike from outside the box. The ball curved and went in the top left corner leaving Iker Casillas helpless. His goal helped Barcelona win the tie and advance to Copa Del Rey final. His crazy celebration after the goal with Eric Abidal was also epic.
3. Most assists to Messi:
History will say Messi is the greatest of all time. Along with him, Alves will also be named as the one who provided him the most number of passes. Nobody has set up more goals for Messi than Dani. The co-ordination and understanding of Alves and Messi, on the right flank of the pitch and off the pitch, was absolutely amazing. Both know each other's next move and could do great wireless communication. Remember him and Messi tearing apart Real Sociedad's romance in 2010/11 with a great tiki-taka play.
4. Most decorated Brazilian:
After Barcelona won La Liga in 2015/16, Dani Alves became the Brazilian with most trophies in the history of football surpassing Pele's mark of 30 with 1 more than him. His 32 titles with club and country make him the 3rd player with most trophies. His trophy tally with clubs and country is listed below:
EC Bahia (2001-2002): 1 State Championship
Sevilla CF (2002-2008): 2 Europa League, 1 Copa del Rey, 1 Uefa European Super cup and 1 Spanish Super cup.
FC Barcelona (2008-present): 3 Champions Leagues, 6 Ligas, 3 Copas de Rey, 3 Uefa European Super-cups, 3
FIFA World Club cups and 4 Spanish Super-cups.
Brazil national team: 1 Copa America and 2 Confederation cups.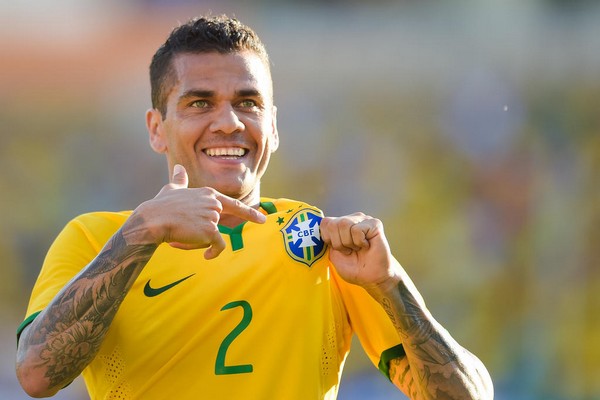 5. Crucial goal against Manchester City:
Barcelona faced Manchester City in the round of 16 of UCL in 2013/14 in which the first goal by Messi gave Barcelona a hope to win. Alves stepped up and scored the second for FCB and confirmed Barcelona's victory on the final minute. Beside assists, Alves sometimes used to contribute to goals as well.
https://www.youtube.com/watch?v=RuRBEg8dXEE
6. Funny moment before UCL final 2015:
The funny gesture of Dani Alves, before the Champions League final in 2015 when he was about to win his 3rd UCL trophy, where he was coming down an escalator in a funny way while Neymar standing behind him, made the world see his softer and humorous side.
7. Wining treble in the first season:
When Guardiola signed Alves, Dani wouldn't have imagined that he would win a treble in his very first season with the club. This was a great achievement for him and a dream come true. He was a crucial part of 2 times treble winning Barcelona team. Even at the age of 32, he was a regular for Barcelona in 2014/15.

8. Eric Abidal – Dani Alves:
Dani is a great human and a humble man who portrays a concept of humanity. His team-mate Eric Abidal was struck by Liver cancer. In this bad time, Dani came forward and offered his liver to his team-mate. This kind of offer could be only given by a person who prioritizes others over his own career and shows great selflessness.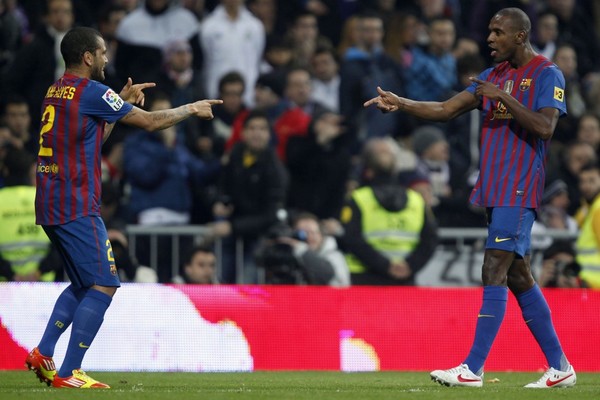 9. Reply to racism:
During a game between Barcelona and Villarreal in the season 2013/14, Alves was victimized with a racist act of opponent team fans who threw a banana on Dani while he was going for a corner kick. Alves showed a great gesture and ate the banana in reaction and later stated that the banana provided him energy for the set piece.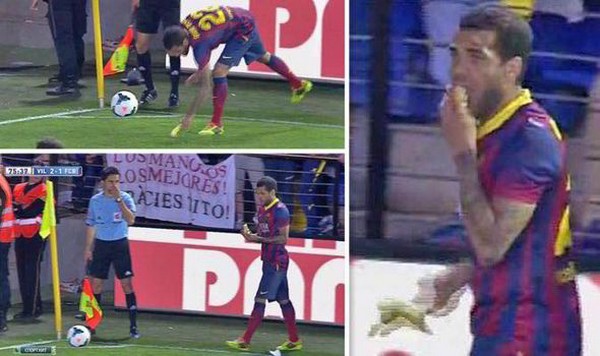 It is sad that after all this time, he is leaving for Juventus to face new challenges in life. He has given a lot of moments to his fans and has left a legacy behind, and he will surely be missed.