Here is a collection of top ten Greatest Sports Photos ever. Enjoy!
Diego Maradona – World Cup, June 22 1986 in Mexico City.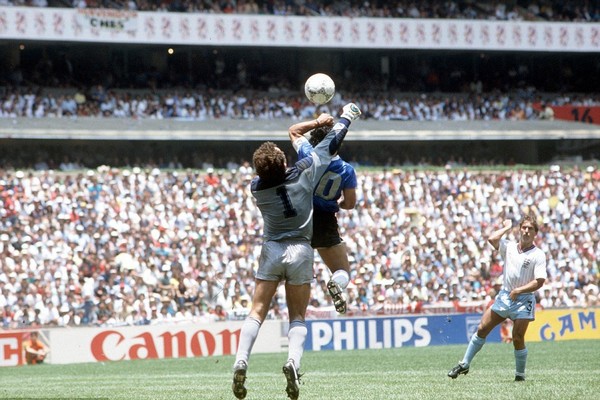 Punch drunk? Diego Maradona became a national hero in Argentina (and Scotland) when he single-handedly beat England in the quarter-final of the 1986 World Cup and went on to lift the trophy.
Diego Maradona – World Cup, 13 June 1982 in Barcelona.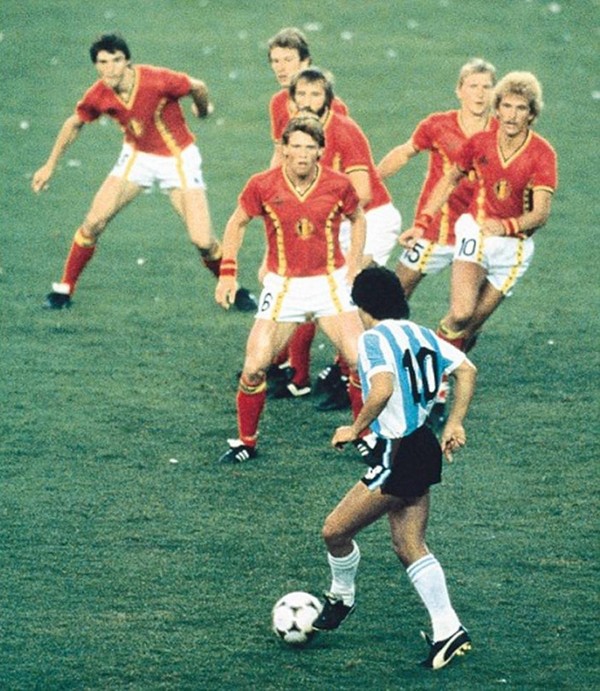 In his first World Cup, in Spain in 1982, Diego Maradona gave six Belgians the run around. The foundations were laid in his five games in the tournament and four years later the Argentina legend steered his country to the greatest prize in football.
Steven Gerrard – FA Cup Final, 13 May 2006, Millennium Stadium, Cardiff.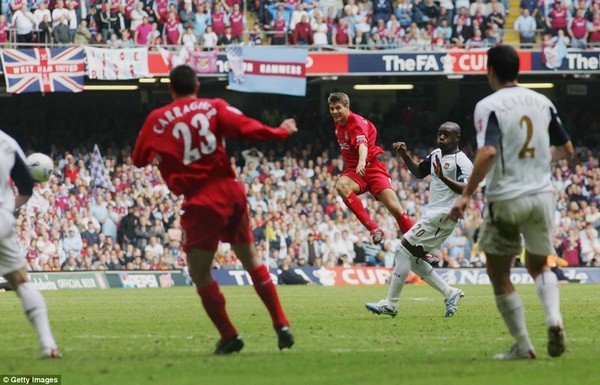 Steven Gerrard lets fly with a thunderbolt shot to score for Liverpool against West Ham United and take the 2006 FA Cup Final to penalties at the Millennium Stadium.
Mats Hummels – Euro 2012, Netherlands vs Germany, 13 June 2012, Metalist Stadium, Kharkiv.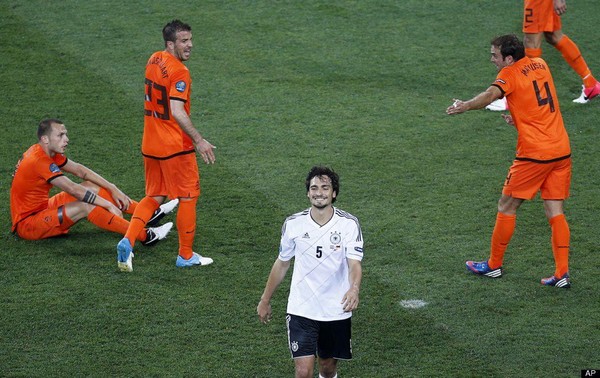 Maxwell Fornah and Victor Musa – Sierra Leone, April 6, 2006.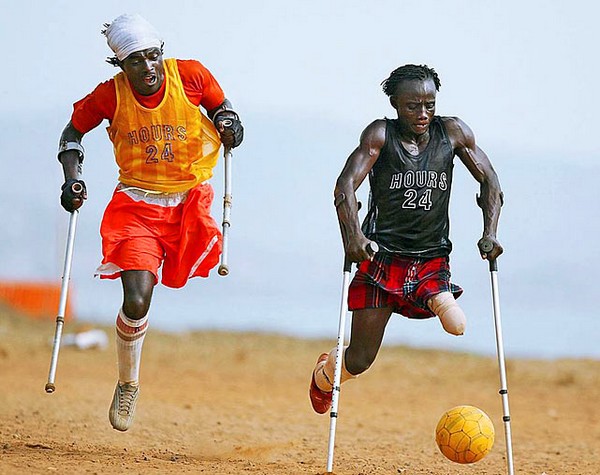 The members of the Single Leg Amputee Sports Club of Sierra Leone chase for the ball in Freetown. A brutal civil war left more than 6,000 amputees in Sierra Leone.
Randy McMichael – Saints at Dolphins, Aug. 15, 2002.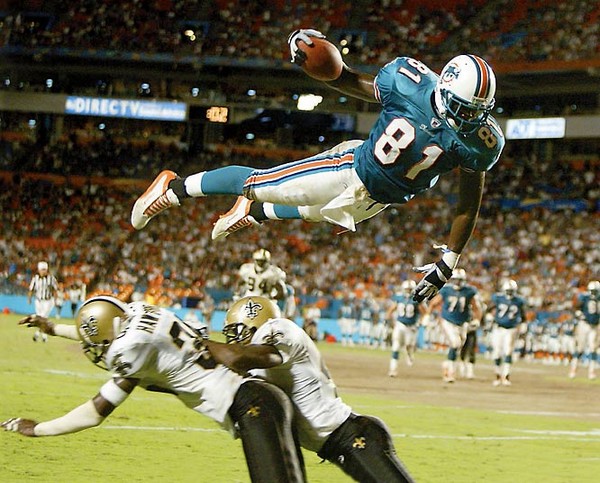 Dolphins tight end Randy McMichael soars over Saints defenders Michael Hawthorne (left) and Mel Mitchell to score a touchdown during a preseason game. The rookie tight end started all 16 games and caught 39 passes for 485 yards and four TDs during the season.
Yelberton Abraham Tittle – New York Giants vs. Pittsburgh Steelers, Pitt Stadium, Pittsburgh, September 20, 1964.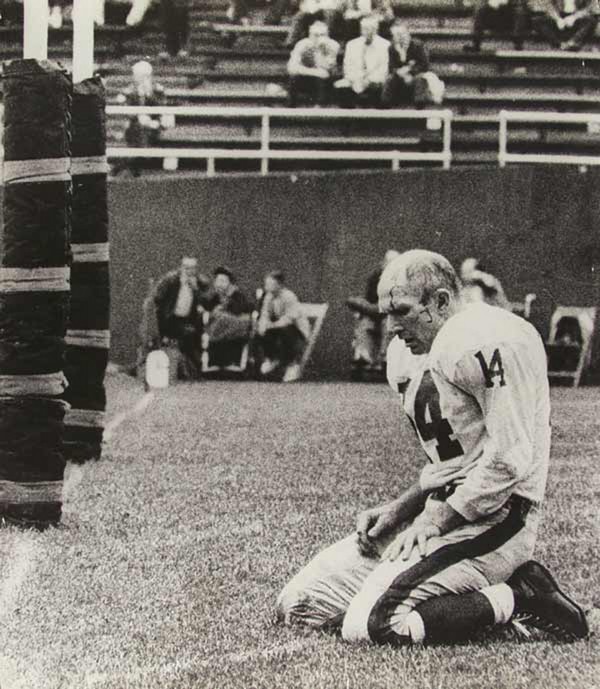 This photo taken during the last season of Y.A. Tittle's storied career as an NFL quarterback captures Tittle after having just thrown an interception that was returned for a touchdown. On the play he suffered both a concussion and a cracked sternum. Tittle says of the photo, "It was the end of my dream. It was over."
Reggie Bush – USC vs. UCLA, Dec. 3, 2005.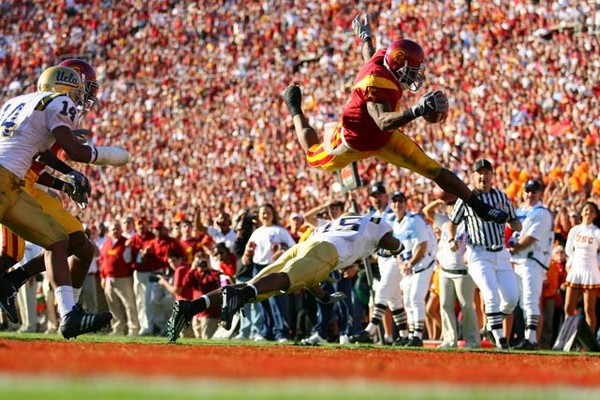 USC running back Reggie Bush jump over UCLA defender Marcus Cassel and into the end zone for a touchdown. Bush's spectacular season earned him the 2005 Heisman Trophy, but the award was later stripped because Bush had received illegal benefits during his time with the Trojans.
Joe Montana – Super Bowl XXIII, Jan. 22, 1989.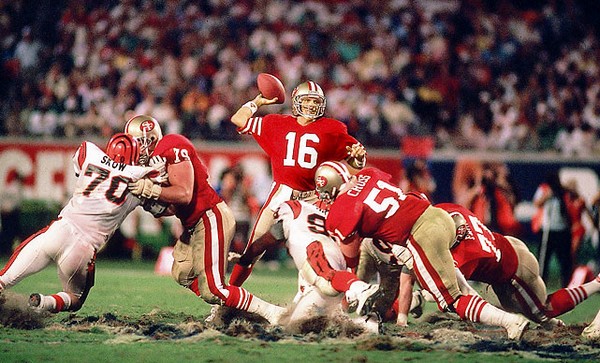 San Francisco 49ers quarterback Joe Montana leads his team down the field in the closing minutes against the Cincinnati Bengals in Super Bowl XXIII. With only 3:10 left in the game, Montana marched the 49ers 92 yards down the field to beat the Bengals 20-16.
Bobby Martin – Belmont High at Colonel White High, Sept. 24, 2005.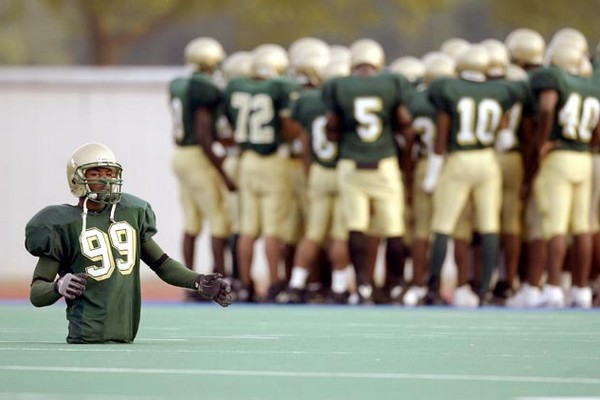 Three-foot, 112-pound Bobby Martin played on punt and kickoff coverage and was the backup varsity noseguard for Dayton's Colonel White High. Born without legs, he can't wear prosthetics because he has no thighs to affix them to.
Source: imgur