Tennis Magical Moments: Here is a list of Top 10 Most Magical Moments In Tennis In reverse order…
10. Andy Murray Wins Wimbledon 2013
The Brits had waited 77 years for this to happen. That's how long it had been since a home grown man had claimed the Wimbledon singles title.
Murray's 6‐4, 7‐5, 6‐4 victory against Novak Djokovic doesn't sound all that dramatic. But Murray blew his first three Championship points. The tension then became almost unbearable. You began to wonder if this was the start of what might become the most painful "choke" of all time.
Instead Murray stayed cool enough to close out the match at the fourth time of asking. All his dreams had suddenly come true and Centre Court could celebrate the British male champion it had craved since 1936.
9. Hewitt Beats Baghdatis in the Melbourne "All‐nighter"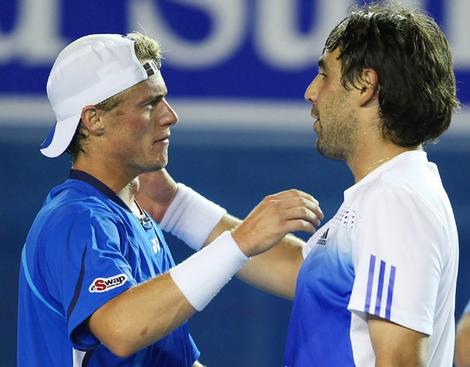 They started at 11.47 pm. Who would have thought they'd still be battling it out with the clock ticking towards 5am the following day?
At the Australian Open in 2008, Lleyton Hewitt and Marcos Baghdatis played a match no one there will ever forget. Hewitt came from a set down to take charge the hard way and he looked ready to win the match in a fourth‐set tie‐break. Instead it was Baghdatis who took the breaker to ensure that no one was going to sleep that night.
The final score in Hewitt's epic five‐set victory was 4‐6, 7‐5, 7‐5, 6‐7 (4‐7), 6‐3. The match finished at 4.44am. It was the latest finish in Open history.
8. Pat Clash Scales New Heights: 1987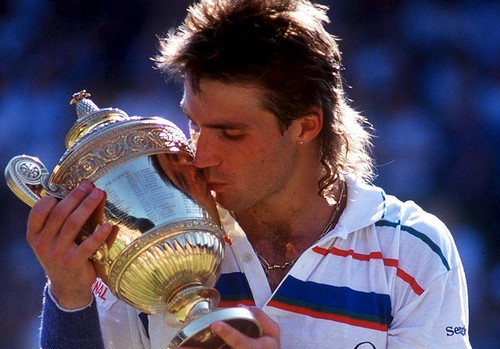 We sat open‐mouthed, scarcely able to believe what was happening. It wasn't that Australian underdog Pat Cash had just beaten world number one Ivan Lendl 7‐6 (7‐5), 6‐2, 7‐5 to win Wimbledon. It was what he did next.
Cash climbed into the crowd, which was pretty much unheard of on Centre Court. Then he just carried on going, to mounting astonishment. He clambered up onto the commentary box roof and from there he climbed further still, until he had reached the players' box. There he embraced his loved ones, while others wondered whether he was going to get back down again in time for the presentation of the trophy.
Cash had started a magical tradition that lasted many years, the same ritual observed by Wimbledon winner Murray as late as 2013.
7. Super‐mum Goolagong Wins Wimbledon: 1980
She had done it nine years earlier, but this was different. Now Evonne Goolagong, the enigmatic star from an Australian Aboriginal family, was a mum. And no mother had won Wimbledon since before the First World War.
Victory was unlikely because Goolagong was facing Chris Evert, who had won her previous 25 matches and had beaten the great Martina Navratilova in the semi‐final.
But Goolagong refused to be intimidated and she held her nerve to win seven out of ten break points during a scintillating match. Evert almost levelled at one set all but her opponent was too strong, as if determined to seal her place in history.
It was a fairytale ending as Goolagong triumphed 6‐1, 7‐6 (7‐4) to take the title. "Supermum" had done it against the odds.
6. Wonder‐kid Boris Becker Wins Wimbledon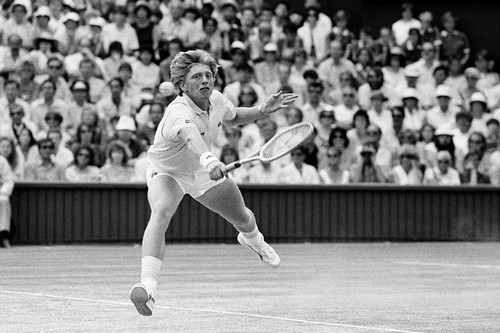 This just doesn't happen. A kid winning Wimbledon. Not the junior tournament, the real thing. Beating adults. Defeating men.
But in 1985 a 17‐year‐old German called Boris Becker fearlessly romped and dived around the grass courts of the All England Club, as if playing for fun in his garden back home. Unseeded, Becker went all the way to the final, where he faced Kevin Curren, a South‐African‐born American.
Becker showed nerves of steel to win 6‐3, 6‐7, 7‐6, 6‐4, sometimes covering himself with grass and dirt as he flung his young body in all directions, dominating the net with amazing acrobatics. It was comic‐book magic, and very thrilling to watch. A kid won Wimbledon? Yes, it really did happen.
5. Arthur Ashe Makes Wimbledon History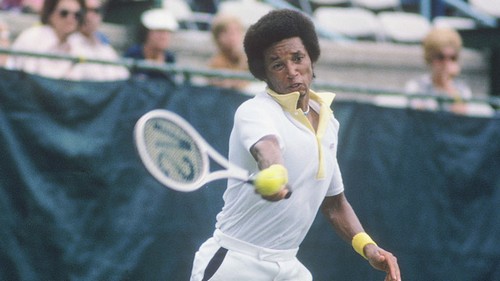 This was the stuff of Hollywood movies. The heroic underdog against the foul‐mouthed villain. That second tag might be a little harsh on Jimmy Connors, but it's the way Arthur Ashe saw his compatriot, whose arrogance was apparently tough to take behind the scenes.
In 1975, Ashe was bidding to become the first African‐American man to win Wimbledon. The fact that he despised his opponent so much could neither help him nor work against him. Our hero admitted: 'I swear, every time I passed Jimmy Connors in the locker‐room, it took all my willpower not to punch him in the mouth.'
Would he lose again to Connors, who had always beaten him in the past? Or could Ashe channel that antipathy into something more positive, intelligent and tactical?
Ashe produced a more subtle game than ever before and the results were simply devastating. He beat Connors 6‐1, 6‐1, 5‐7, 6‐4, refusing to be denied despite that spirited Connors fight‐back. Arthur Ashe was nearly 32 and destined to die young. But we will never forget the magic he produced that day.
4. Henin beats Capriati, US Open 2003
https://www.youtube.com/watch?v=Qe4pY1c5lVc
Flushing Meadows has seen so many great moments, but this slug‐fest of a semi‐final saw spectators shocked at the sheer brutality of the contest.
A resurgent Capriati was the crowd's clear favourite and she played some incredible tennis to put herself on the verge of victory not once but twice.
Having taken the first set 6‐4, the powerful Capriati was 5‐3 ahead in the second set and led 5‐2 in the third. But no one had counted on the resilience and determination of Justine Henin, the little Belgian with the single‐handed back‐hand, described by John McEnroe as the most beautiful shot in tennis.
The quality of the rallies was breath‐taking, the intensity of that New York night unforgettable. Henin finally won 4‐6, 7‐5, 7‐6 but had to be put on a drip because she was so dehydrated. Incredibly, Henin recovered hours later to take the title by beating her compatriot, Kim Clijsters. What a warrior!
3. Andre Agassi Woos Wimbledon: 1992
To understand the magic of the moment, you have to remember how completely Agassi had charmed Wimbledon – in fact he had swept the place off its feet. Adored by women, loved by men too, Agassi couldn't have been more popular at the All England Club had he been British.
The baseliner with the winning smile and super‐cool demeanor brought Centre Court to its feet during a pulsating five‐set final with Goran Ivanisevic.
No one could predict which way the match would go after the first four sets. Ivanisevic won the first set 7‐6 (10‐8) ‐ and already you could cut the atmosphere with a knife. Agassi took control of sets two and three, claiming both by a comfortable 6‐4 margin. Then the big Croat struck back so emphatically that he took the fourth set 6‐1. In doing so, he became favourite to take the title.
But Agassi summoned something special when it mattered. And when he claimed the fifth set 6‐4 and with it the Wimbledon title, the sheer outpouring of love for the little American had to seen to be believed.
2. Wawrinka Shocks Djokovic at Roland Garros: 2015
Yes, even though it was only last year, this has to go down as one of the most magical afternoons in the entire history of tennis.
The level that Stan Wawrinka had to maintain in order to beat Novak Djokovic was almost superhuman. All‐out aggression backed by unerring accuracy caused a massive shock, as Wawrinka denied Djokovic a Career Slam in stunning style.
The score, 4‐6, 6‐4, 6‐3, 6‐4, seems unexceptional. But to tame the imperious Serb after he had got off to such a winning start in a final seemed practically impossible ‐ until Stan The Man showed it could indeed be done.
Such fearlessness, such lethal execution of his shots and such a sustained assault had rarely been seen before. But what rounded off the perfect day in Paris was the long and moving round of applause afforded to Djokovic, who was moved to tears by such unexpected warmth.
1. Nadal Beats Federer In The Dark: Wimbledon 2008
It's something we've all done: play sport all evening for the sheer joy of it, then carry on playing into the darkness, until we can see the ball no more.
But this was a Wimbledon final. And there was something truly magical about the decision to continue after the sun went down, to see if we could finally find a Championship winner. At 9.15pm that victor emerged from the gloom, though both men were soon in tears.
To their credit, Rafael Nadal and Roger Federer sensed the unique majesty of the occasion and realised the spell should not be broken until one of them was triumphant. Not that either man was ready to give in as the world peered through the darkness and marveled at what they saw.
In the end it was Federer who wept tears of disappointment after his amazing fight‐back was thwarted by Nadal, whose own tears expressed his relief and joy. The Spaniard won 6‐4, 6‐4, 6‐7 (5‐7), 6‐7, (8‐10), 9‐7.
Tennis had a moment that will never be beaten.
This article was provided by Sports Journalist, Mark Ryan, who works to ensure the buyers of Wimbledon Tickets can be confident they will have the best possible tennis experience.
Tennis Magical Moments – Top 10
Nadal Beats Federer In The Dark: Wimbledon 2008
Wawrinka Shocks Djokovic at Roland Garros: 2015
Andre Agassi Woos Wimbledon: 1992
Henin beats Capriati, US Open 2003
Arthur Ashe Makes Wimbledon History
Wonder‐kid Boris Becker Wins Wimbledon
Super‐mum Goolagong Wins Wimbledon: 1980
Pat Clash Scales New Heights: 1987
Hewitt Beats Baghdatis in the Melbourne "All‐nighter"
Andy Murray Wins Wimbledon 2013