Eugenie Bouchard is best known for hitting the ball extremely early and rushing her opponent with a severely high groundstroke tempo, which has been described as "hell" to play against. She will also make drastic and unpredictable changes in ball direction.
"Bouchard is a very aggressive player. It's sometimes very hard to read her game. There are no real patterns, like with other players. She's a great mover." Ana Ivanovic stated at the 2014 Australian Open.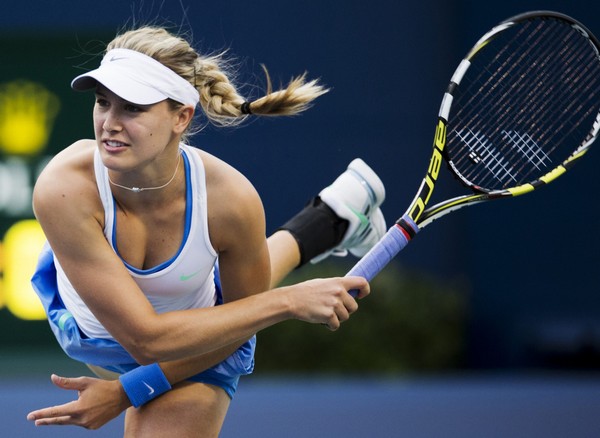 Rising Tennis Star Eugenie Bouchard Hottest Photos and Bio:
Eugenie Bouchard is on track to be the greatest tennis player ever from Canada. Here, we present the rising tennis star's Eugenie Bouchard hottest photos. Though she has yet to win a Grand Slam title, Bouchard will make abig waves in the world of tennis in coming years.
The 20-year-old Canadian golden girl, Eugenie Bouchard is fast becoming the new queen of Centre Court. She was Canada's first-ever Grand Slam singles finalist at 2014 Wimbledon Championships. She had clinched a maiden tour title at Nuremburg in the run-up to the 2014 French Open. Following the end of the 2013 WTA Tour, she was named WTA Newcomer of the Year. She had also won the 2012 Wimbledon girls' title.
Eugenie Bouchard was born on February 25, 1994, to Michel Bouchard and Julie Leclair, in Montreal, the Canadian province of Quebec. The Canadian golden girl and her twin sister are named after Prince Andrew's daughters, Beatrice is named after Princess Beatrice of York, while Eugenie is named after Princess Eugenie of York. The youngest sister Charlotte is named after Charlotte Casiraghi.
Eugenie Bouchard started playing tennis when she was five years old. At the age of 12, she moved to Florida to further her budding tennis career. At the age of 15, Eugenie moved back to Montreal, where she still makes her home today. She was an ecellent junior tennis player and won a junior single title at Wimbledon in 2012, becoming the first ever Canadian women to accomplish that feat. She won the 2012 Wimbledon girls' title.
So far in 2013, Eugenie Bouchard is having a big breakthrough for her career. At the start of the season, Eugenie Bouchard started playing in the main fields of the Grand Slam tennis tournaments, reaching the second round of the U.S. Open that season. She was also named WTA Newcomer of the Year 2013. Since 1983, she was the first Canadian women to be the newcomer of the year.
So far in 2014, Bouchard is really having a great breakout season. She reached the semifinals at both the Australian Open and the French Open this season. She is the only woman tennis player to reach the semis at both those majors this year in singles play.
At Wimbledon in 2014, Bouchard defeated Daniela Hantuchová, Silvia Soler Espinosa, Andrea Petkovic, Alizé Cornet, and Angelique Kerber, all in straight sets, to make it to her third straight Grand Slam semifinal. In doing so, she became the first WTA player to make the semifinals of the first three Grand Slams of the season since Dinara Safina in 2009, and guaranteed her first ever top 10 WTA ranking following the tournament. She then defeated world No. 3 Simona Halep in straight sets to become the first Canadian-born player representing Canada to make it into a Grand Slam singles final.
Beautiful Tennis Queen Eugenie Bouchard Hottest Photos: