There's no doubt Ronda Rousey is great, dominant, charismatic and practically unbeatable. But, the Ultimate Fighting Championship sensation is more than that. She dominates each time that she enters the cage for a battle that usually lasts around a minute if the opponent is lucky or having a particularly good day. Rousey has become part of mainstream culture, and it would not be a stretch to suggest that she is, as of August 2015, the most fun act to watch in all of professional sports.
Some have compared Rousey to former boxing heavyweight champion Mike Tyson in that both tremendous athletes overwhelmed opponents during the early stages of their careers.
Huffington Post recently sat down with Mike Tyson and asked him how he thought Ronda would fare against a guy like Floyd Mayweather in the Octagon.
To this, Iron Mike didn't hesitate. He says ; Rousey could beat him in a fight.
"S**t, Ronda Rousey might kick my a**," he said. "That 14 seconds the last fight [against Cat Zingano] — s**t, man, you got to take that seriously."
Rousey, however, has said she would not fight a man — even though she's confident she could win.
While in any professional sport, Rousey is the single most dominant athlete, male or female. She is not yet the star that Tyson was during the heights of his popularity. She has mirrored the first stage of Tyson's public career in other facets, and she has also even eclipsed certain achievements accomplished by the boxer who eventually took the world by storm. The best from Rousey could still be to come in the future if a fight being dreamed of by fans becomes reality at some point.
Thanks to TheRichest.com, below are top 10 ways Ronda Rousey is Better Than Mike Tyson.
10. Rousey is a dominant woman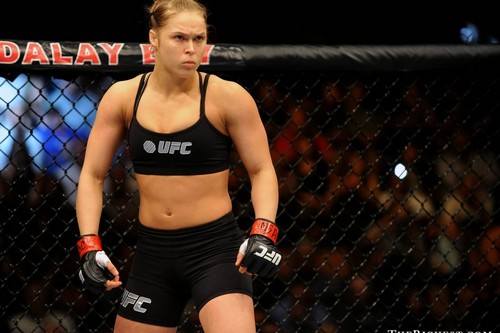 Rousey is a badass female, without that depth, she is more trailblazer than anything. With her talent and attitude, she's taken over a sport that barely exists and is only starting to grow thanks to herself. Neither the UFC nor MMA have ever had a star who captivates the attention and the admiration of casual fans who normally do not follow the sport like Rousey, and she is undeniably the biggest single draw in the game today. A true champion is someone who defeats the best. For now, Rousey is beating the rest.
9. Rousey is a social media star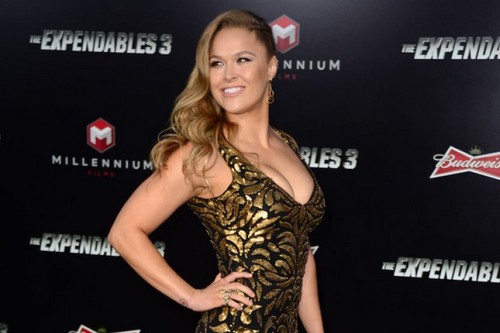 Mike Tyson was knocking opponents out left and right long before ideas of social media. Rousey is unquestionably a sports icon of the social media era, and it is a guarantee that she will be trending on Twitter whenever she headlines a UFC show. Fans, fellow athletes and celebrities flock to social media websites to post about Rousey each time she enters the cage, and her fame only grows with every victory that she earns.
8. Rousey attracts female fans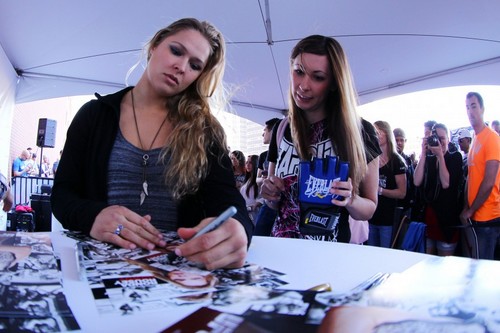 Tyson was a household name when he was a champion, but he was not known for being a special occasion draw that attracted female viewers who would otherwise ignore the fight game. Rousey, however, has managed to become just that for women viewers of a variety of ages, and that phenomenon is seen inside of sports bars and restaurants whenever she fights. Women who otherwise would not be all that interested in sitting for hours to watch a UFC do so knowing that Rousey is at the top of the card, and they pay cover charges or pay-per-view costs to see the "Rowdy" one in action.
7. Rousey is a pioneer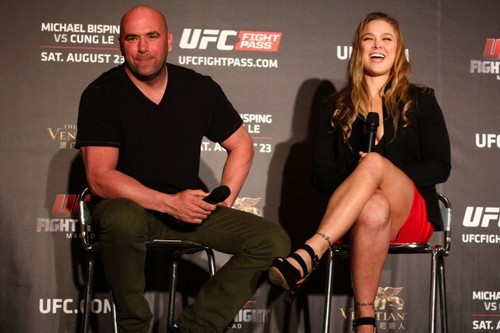 As great as Mike Tyson was in his prime, boxing at that point had a long history of men who were international superstars. Names such as Muhammad Ali, George Foreman, Sugar Ray Leonard and so many others before Tyson helped build a solid foundation for the sport of boxing. Women's MMA is in its infancy for casual sports fans who have, only in the past few years, begun to notice the sport, and those individuals are tuning in and becoming familiar with women's MMA all because of Rousey. It could be said that the UFC would not even have women competitors in 2015 had Rousey not become a dominant star elsewhere, so much so that Dana White had to sign her.
6. Rousey has a chin and endurance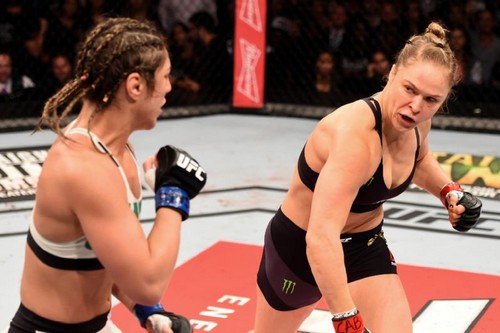 We saw what happened when Tyson faced opponents who were able to land solid shots to his jaw. It was bad times for the former "Kid Dynamite." Rousey has already proven on multiple occasions that she can take punches, kicks and knees and still live to fight on through those attacks, and she won with relative ease when Miesha Tate managed to take Rousey to the third round of an encounter. Just as with Tyson, fight fans are left wondering what Rousey's Kryptonite might be. Keep looking, everybody, because it not only has not yet been discovered. It may not exist.
5. Rousey has a finishing move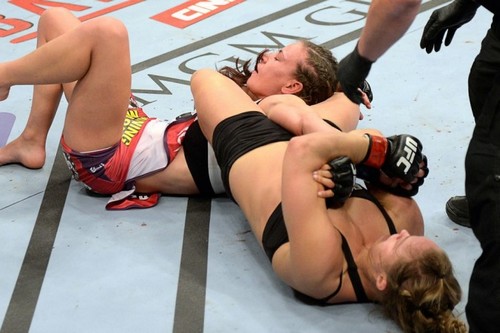 Rousey is a pro wrestler competing in real fights in that she has a finishing move. Every opponent who faces Rousey spends weeks and months preparing to fend off her armbar submission hold, but those training sessions have more often than not meant nothing on the night of the actual match. Fans in attendance and watching at home or at a bar stand in anticipation for Rousey to lock in the hold, and those paying customers yell with joy each time she sinks it in and forces an opponent to tap out. Rousey's armbar is the single coolest move in all of sports.
4. Rousey can cut a promo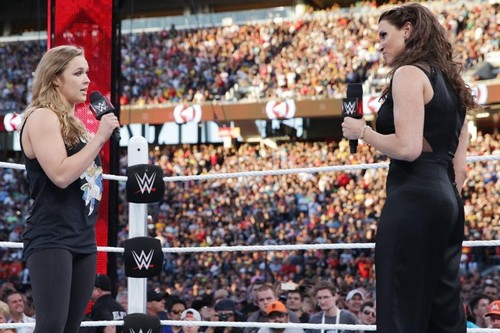 Fans used to love when a microphone would be put in front of Tyson, but it was because he would often mispronounce words, use wrong or non-existent phrases or otherwise sound downright foolish. That is not the case with Rousey. Rousey cuts promos on opponents in a manner that would make World Wrestling Entertainment Chairman Vince McMahon take notice, and the champ then delivers on victory guarantees during fights. When Rousey says that she is going to make a fighter suffer, as she did leading up to her battle with Bethe Correia at UFC 190, you believe her.
3. Rousey is a better overall fighter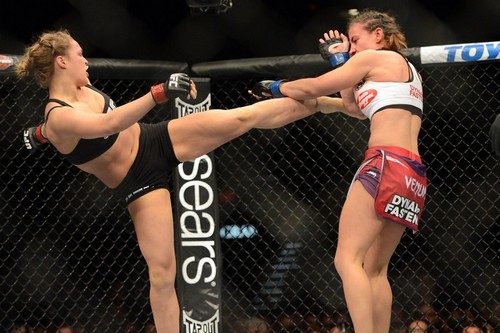 There was no so-called "sweet science" to the approach Tyson took to fighting. "Iron Mike" entered the ring looking to knock the heads of opponents off, end of story. While Rousey is known for locking in her armbar submission, she has also shown that she can win in other ways. Rousey never left her feet in knocking Bethe Correia, known for her striking abilities, out cold at UFC 190, and the champ has won via a knee strike and also punches. There are several reasons why Rousey is seen as one of the best pound-for-pound fighters in all of MMA today.
2. Rousey has improved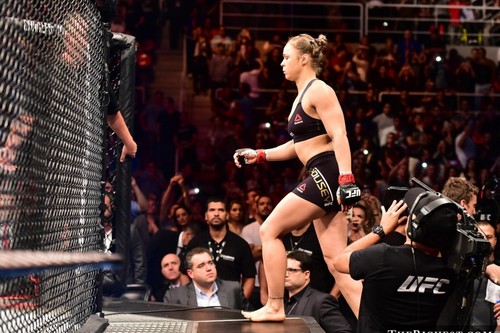 Tyson never improved after winning the championship, and thus he never evolved into as well-rounded a boxer as were Evander Holyfield, Lennox Lewis and Riddick Bowe during the primes of their careers. As good as Rousey looked during her first couple of professional fights, even casual MMA observers have been able to notice how much she has improved as an overall competitor. Rousey is no one-trick pony, and different approaches that she has had leading up to fights along with lessons that she has taken from her victories have helped make her the best in the business.
1. Rousey is a role model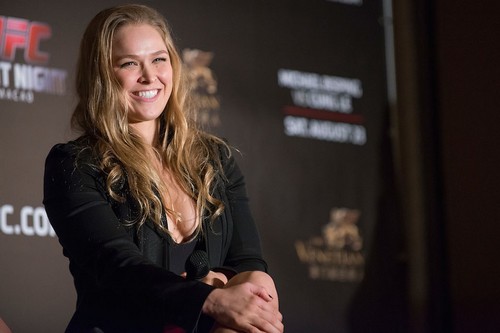 Whether she is calling out boxing champion Floyd Mayweather because of his history of domestic violence incidents or she is making not-safe-for-work comments on feminism and body shaming, Rousey has proven to be a role model for younger girls and younger boys in a way Tyson never was even when at his best. There is an irony in the fact that Tyson, who went to prison in the 1990s after he was convicted of rape, is known to be a massive Rousey fan and has even watched the UFC champion train in-person. Even Tyson himself would have to admit that Rousey is simply better.