Who are the hottest female Olympic athletes? Every 4 years, people from around the world come together to watch the most spectacular sporting event of all-time, the Summer Olympics. This year's Summer Olympics in Rio was full of glory and controversies, with many talented athletes breaking records from left to right. It brings the most beautiful athletes from around the globe for all of us to enjoy second by second.
Here is our list of the top 10 hottest female Olympics athletes. Take a look. Enjoy!
10. Aly Raisman (Gymnastics) – USA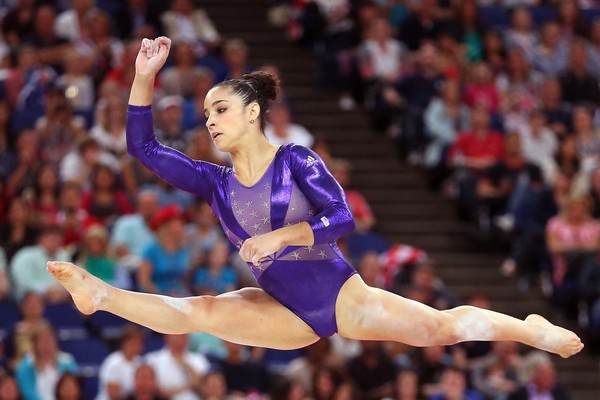 2016 Summer Olympic team champion and floor exercise silver medalist Aly Raisman comes at number 10 in our list of Hottest Female Olympics Athletes. A decorated gymnast, the multi-medalist has also competed on Dancing with the Stars and posed for ESPN's Body issue.
In the Summer Olympics Games in Rio, she won the silver medal on floor exercise and a gold medal in the team event, making her the only Americans with back-to-back team golds. Raisman also won the silver medal in the individual all-around at the Summer Olympics. With a total of six medals, she is the 2nd most decorated female American gymnast of all time at the Olympics.
9. Emma Coburn (Track and Field) – USA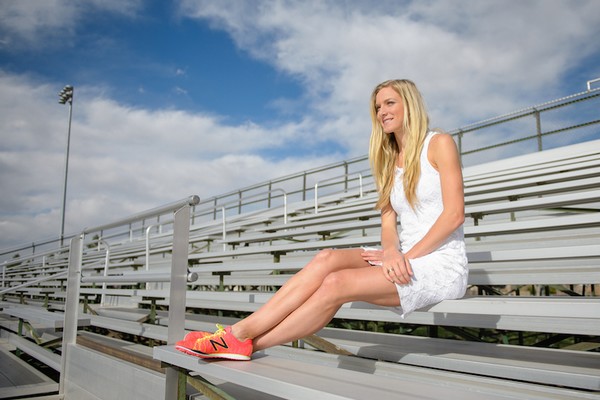 The two-time NCAA 3,000-meter steeplechase outdoor champion and 2016 Rio Olympian, Emma Coburn comes at number nine in our list of Hottest Female Olympics Athletes. She posed naked for ESPN's Body issue.
Reigning USA Track and Field champion Emma Coburn earned a bronze medal, setting an American record in the 3000 meter steeplechase at the 2016 Summer Olympics. She set an American record with a time of 9:07.63, trimming a record that she already held by more than three seconds. It was the 13th-fastest time in women's steeplechase history.
Coburn became the first American to win a medal in the women's steeplechase, which has been an Olympic sport since 2008. Include the men's steeplechase, which has been going since 1920, and Coburn is the first American medalist since Brian Diemer won a bronze in 1984.
8. Jaqueline Carvalho (Volleyball) – Brazil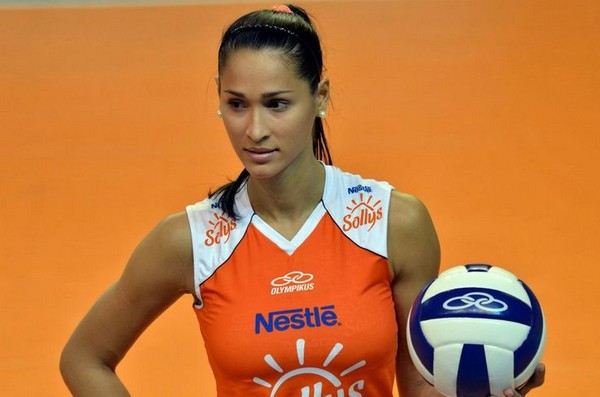 Standing at 6'1″, this brunette bombshell makes this list at number eight. The 32-year-old volleyball star from Recife, Brazil, rated as one of the hottest Female Olympics Athletes in this year's olympics. A double Olympic Champion from Beijing 2008 and London 2012, a double silver medalist of the World Championship and multimedalist of the World Grand Prix, Jacqueline is perfect volleyball player you'd most definitely want on your side of the net.
7. Marie-Laurence Jungfleisch (high Jump) – France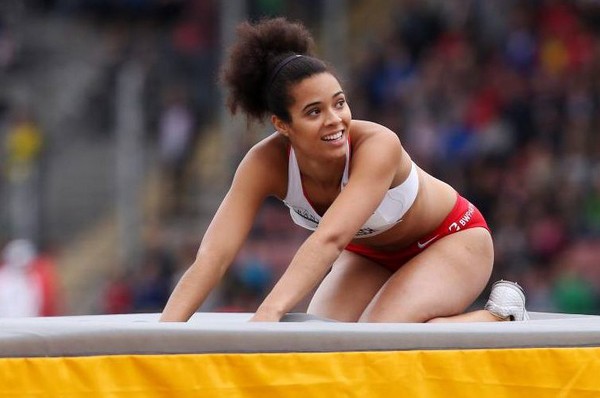 German origin, French high jumper, Marie-Laurence Jungfleisch makes this list at number seven. Failed to win any medal but Laurence Jungfleisch was easily one o the most attratcive, hottest female Olympic athletes in Rio de Janeiro 2016. She has personal bests of 2.00 metres outdoor (2016) and 1.97 metres indoors (2014).
6. Joana Heidrich (Beach Volleyball) – Switzerland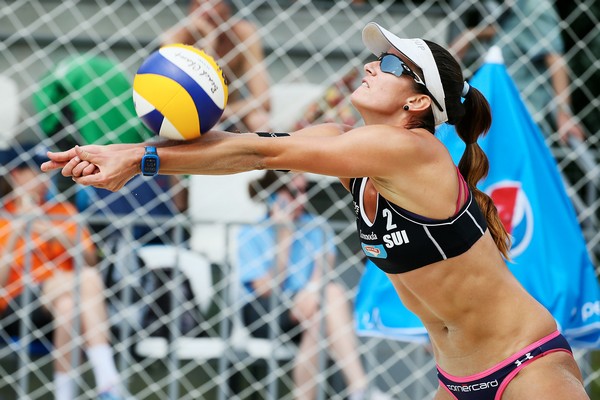 Another extremely talented player, one of the hottest female Olympics athletes, from Switzerland is Joana Heidrich who will be fighting it out for got in women beach volleyball. As of 2016, she plays with Nadine Zumkehr. They have participated in the 2016 Summer Olympics in Rio de Janeiro with a 14th seed placement. They lost against Brazil's #1 seed team of Talita Antunes and Larissa Franca in a nail biting match of 3 sets, which was also the longest match at Rio, in the quarter final Played August 14, 2016.
5. Pernille Blume (Swimming) – Denmark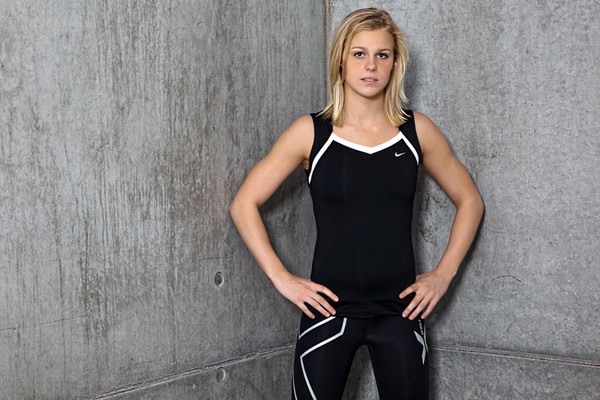 Pernille Blume has just won the Gold medal for Denmark in Women swimming category in Rio 2016 summer Olympics. Danish swimmer comes at number five in our list of Hottest Female Olympics Athletes right now. She has competed at the 2012 Summer Olympics and was the 2016 Olympic champion in women's 50 m freestyle. She is also a successful model.
4. Giulia Steingruber (artistic gymnast) – Switzerland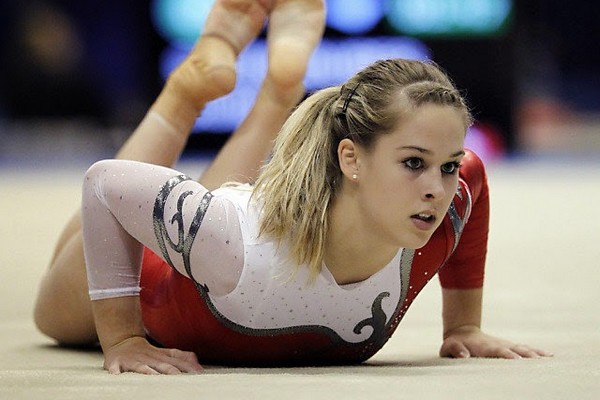 Representing Switzerland, Giulia Steingruber won the bronze medal in Artistic Gymnast category in the 2016 Olympic and a European champion in all-around (2015). One of the Hottest Female Olympics Athletes, Giulia is the first Swiss female gymnast to win the European all-around title and the first Swiss gymnast ever to win an Olympic gymnastics medal of any color.
3. Zsuzsanna Jakabos (Swimming) – Hungary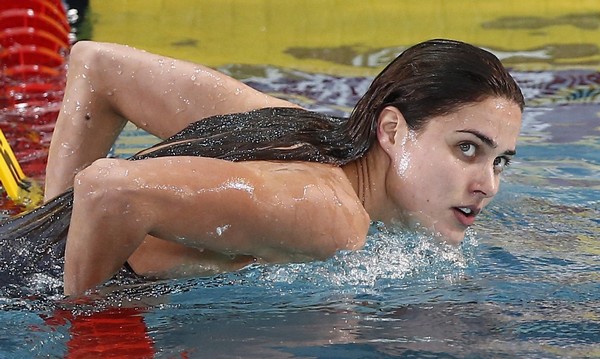 The Hungarian beauty Zsuzsanna Jakabos hold the 3rd place on the Hottest Female Olympics Athletes list. Has been on the women swimming scene for quite some time and returns in Rio 2016. Zsuzsanna has represented Hungary in 2004, 2008, 2012 and 2016 Olympics, with the best achievement of sixth place in the 4×200 m freestyle relay in 2008. She's one of the top ten women swimmers of all time.
2. Amber Hill (Shooting) – UK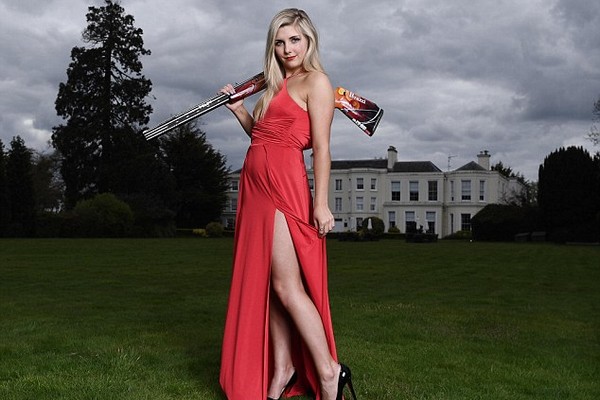 Olympic Skeet Shooter for Great Britain and world cup gold medalist, Amber Hill is at number two in our list of Hottest Female Olympics Athletes. At the tender age of just 18, Amber Hill has become one of the most accomplished skeet shooters, with top rankings and three golds in major international tournaments. She's one of Britain's brightest and most exciting young talents in the Olympic sport sphere.
1. Kassidy Cook (Diving) – USA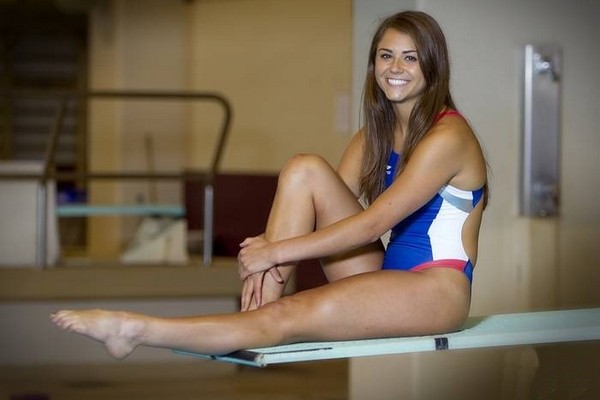 Making her Olympic debut this year in Rio on top form, the baby-faced Kassidy Cook top our list of Hottest Female Olympics Athletes. Twenty-one-year-old is diving head first into the 3m springboard competition.
After missing qualifying for the 2012 London Olympics by one spot, she suffered a string of injuries and needed major reconstructive surgery. She rehabilitated her injuries and earned a second quota spot for the U.S. at a qualification event in Feb. 2016.
Kassidy Cook didn't qualify for the 3m springboard final, but will have a strong 2020 Olympics. She put together four impressive dives, but her second attempt proved to be the difference between competing in Sunday's final and going home.
Top 10 Hottest Female Olympics Athletes
USA's Kassidy Cook (Diving)
British Amber Hill (Shooting)
Hungary's Zsuzsanna Jakabos (Swimming)
Switzerland's Giulia Steingruber (artistic gymnast)
Denmark's Pernille Blume (Swimming)
Switzerland's Joana Heidrich (Beach Volleyball)
France's Marie-Laurence Jungfleisch (high Jump)
Brazil's Jacqueline Carvalho (Volleyball)
America's Emma Coburn (Track and Field)
United State's Aly Raisman (Gymnastics)